Do you LOVE Troy Hill? Do you LOVE your home? On May 20th from 1 to 4 PM, you will have the opportunity to showcase your house to your neighbors and those interested in moving to Troy Hill on the first annual Troy Hill House Tour! We are looking for 5 or 6 enthusiastic participants to show off their homes and brag to everyone what Troy Hill is all about. Your home can be perfect, in construction or anywhere in between.
Please fill out the short survey below to be considered for part of the tour. Submissions are due by April 12th:
Not sure of what a house tour is? Check out the links to what our neighbors have done below:
◙ Mexican War Streets House and Garden Tour
For those looking to attend the tour, tickets will be on sale in Mid-April and proceeds will go towards beautification and events in the neighborhood. Have any questions? Please direct message Sam Morris or Abby Vanim on Facebook or email us at troyhillhousetour@gmail.com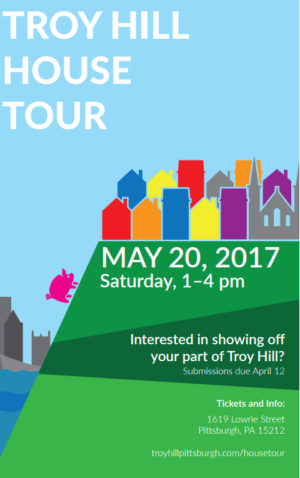 Previous Years
Looks like 2017 is the inaugural year for Troy Hill House Tour!  Check back in 2018 to see how it went!