2017 (Inaugural) Recap!
The inaugural Troy Hill house tour held on May 20th, 2017 was a huge success and we couldn't have done it without you!  Here's a recap of the house tour by the numbers:
Over eighty attendees from all over the city and surrounding areas
Four houses representing the diversity of Troy Hill real estate
Four points of interest, from the new Rialto St. mural to Voegtly Cemetery
Two participating businesses (Pear and Pickle, Scratch F&B)
Two participating churches (Most Holy Name of Jesus and St. Anthony's Chapel)
One generous sponsor (Troy Hill branch of WesBanco)
Special thanks to our sponsor and attendees, which allowed us to meet our fundraising goal for Troy Hill Window Box beautification project.  And of course a special thanks to the generous homeowners and businesses who opened their doors. To download the 2017 House Tour booklet, please click HERE.  We intend to make this an annual event and are looking for suggestions on how to improve next year. Please submit any and all feedback to troyhillhousetour AT gmail.com.  Thanks!
2017 Details
Tickets
Join us in Troy Hill on Saturday, May 20th from 1 to 4 pm to explore this wonderful neighborhood with a self-guided tour. With the purchase of a ticket, you will receive a guide book that will introduce you to 5 different homes and several businesses and points of interest that make Troy Hill special. Each guide book will include descriptions of the houses and locations and includes discounts to two of the local businesses, Pear and the Pickle and Scratch.
Tickets are available for $15 through the Eventbrite link below.  Tickets are free for children 12 years and younger.
https://www.eventbrite.com/e/2017-troy-hill-house-tour-tickets-33923330595?aff=ehomecard
Please bring your ticket or confirmation email to Most Holy Name School on Tinsbury Street. Parking is available across from the school at the corner of Tinsbury Street and Hatteras Street.
All proceeds will be donated to the Troy Hill Window Box Beautification Program, an upcoming event that provides Troy Hill residents with free soil, flowers and materials to create their own window flower boxes.
This event is generously sponsored by the Troy Hill branch of WesBanco.
For more information or suggestions, please contact the organizers at troyhillhousetour@gmail.com.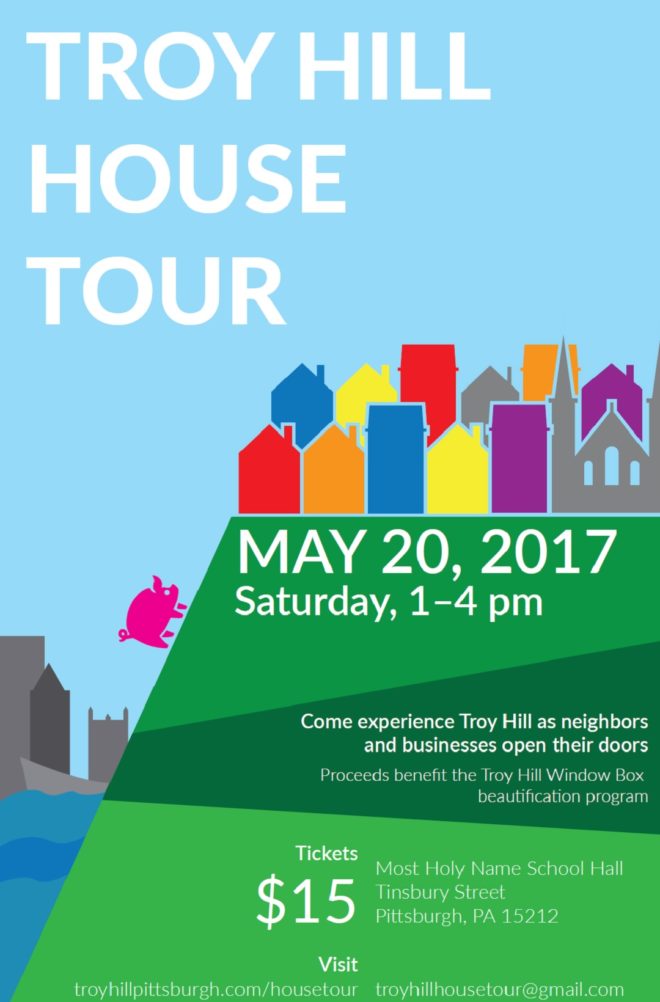 What is a house tour?
Not sure of what a house tour is? Check out the links to what our neighbors have done below: