Troy Hill Citizens facilitates community service projects of all shapes and sizes, in conjunction with our partner organizations and community volunteers.
Community volunteers are vital to the success of these projects, so please contact us if you see an upcoming volunteer event where you could make a difference, no matter how big or how small.  We appreciate the help, and your neighbors do too!
Below are examples of previous or re-occurring community service projects.
Pitt Make a Difference Day (PMADD)
Every year, a bus full of eager Pitt students visits Troy Hill for a fun, productive day of service.  Examples of past years work include:
Landscaping
Gardening and weeding
Sidewalk tree pit maintenance
Community garden maintenance and building projects
Assisting community organizations with cleanup and organization projects
Litter cleanup
Staircase maintenance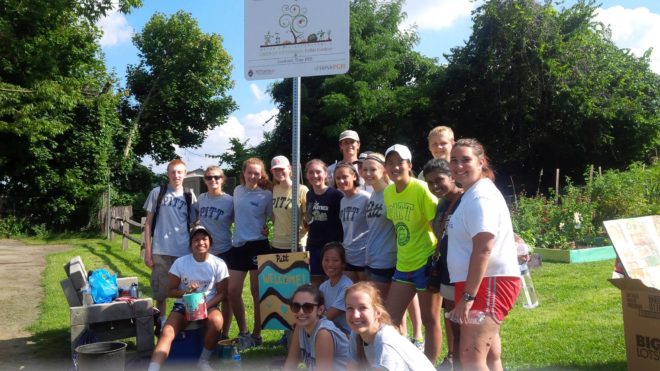 A nice write up of our 2014 PMADD can also be found here.  For full details, please visit the  PMADD website.
Landforce/Gtech
On May 19th 2017, we held an inaugural collaboration between THC, neighborhood volunteers, Gtech and Landforce, a workforce development non-profit.  In Troy Hill Citizen's Park we weeded, mulched, pruned, removed invasive vines and planted several trees.  Along Rialto St. we weeded, mulched, cleared the steps, and installed a section of concrete block retaining wall.   On Elbow St., we painted a portion of the guard rail safety yellow to add a little flair to the neighborhood.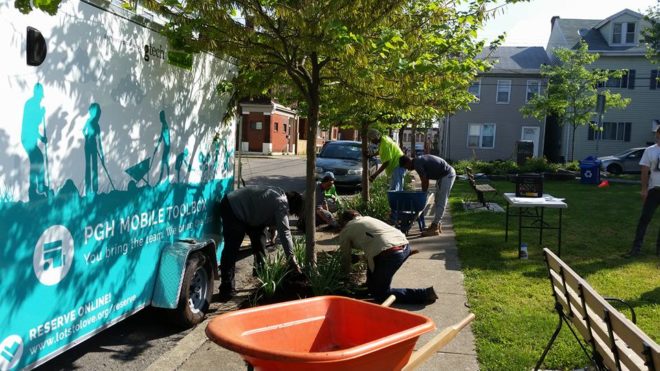 Tree Pittsburgh
Troy Hill didn't always have so many lovely tree pits.  But thanks to Tree Pittsburgh and so many wonderful community volunteers and certified "Tree Tenders," beautiful trees grace now our sidewalks.
Although we try our best to provide notifications for all upcoming Tree Pittsburgh volunteer events in Troy Hill, for the latest details please visit the Tree Pittsburgh events calendar or subscribe to their mailing list.  We can't say enough about this wonderful Pittsburgh organization!